Our savoir-faire
IN THE VINEYARD:
We attach a great importance as well as a special attention to the vineyard because it is where everything decides itself.
We work the ground thanks to ploughing during spring and summer. During winter the ground is earthed up.
IN THE CELLAR :
Our white, rose and red wines reflect an experience and a savoir-faire conveyed from generations to generations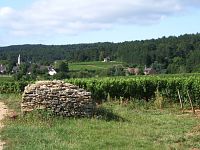 The white wines: the grappes are collected by hands and immediately squeezed. Then, thanks to the must obtained by bleeding or by direct pressing, which should be clear after fermentation, the must are turned to wine.
Temperatures are then maintained around 66°F-72°F.
Finally, the process goes on either in a stainless steel vat for the Aligoté and the Bourgogne Blanc or in oak casks for the Marsannay for 8 to 12 months.
The rose wine: it comes from Pinot Noir grapes that ferment for several hours with its peel and its pips. That is what gives rose wine its colour. It is  called a bleeding rose. This juice of beautiful redcurrant colour ferments exactly like a white does. It is then bottles the next spring.
The red wines: The harvest is made by hand. After being sorted out in the vineyard, the grappes are all separated from their stalk. Then the cold maceration begins for a few days. The fermentation of skins is a twelve-to-twenty days period depending on the appellations. It takes place under temperature controls.
During the fermentation, some pigeages, which are the mixing of grapes in the vat for an improvement of its soaking, and some remontages, which are operations that consist in decanting some must at the bottom of the vat in order to pour it on top of the marc at the top of the vat thanks to a pump, are daily made so that most of the colour and tannins could be extracted.
Once it is squeezed, the wine is put in oak barrels or in stainless steel vats depending on its appellations for 12 to 18 months.
THE SALE:
We bottle about half of our production, the other half is sold to wine merchants.
Our clients are mostly private individuals.
We commercialise our bottles in the cellar and through our salesmen.
Our wines are regularly rewarded by the Sélection du Tastevinage and by the Guide Hachette.