FIXIN 1er Cru LES HERVELETS Vieilles Vignes 2019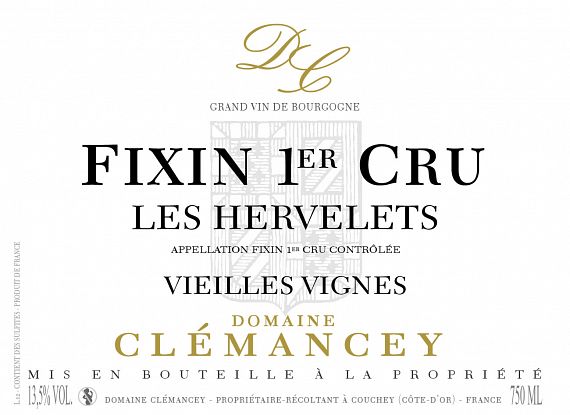 AREA: 0.90 hectares located in the village of Fixin shared in 2 plots.
GRAPE OF VARIETY: Pinot Noir
YEAR OF PLANTATION: from 1945 to  1980
ANNUAL PRODUCTION : 3500 to 4000 bottles
HARVEST: by hand
VINIFICATION AND GROWTH: After being sorted out, the scratched grapes are put in vats. Then a cold soaking begins for a few days. And finally fermentation takes place for 2 to 3 weeks. Pigeages and remontages are always daily made under temperatures control.
The growth goes on in oak barrels for 12 to 18 months depending on the vintages.  
WINE NATURE: It is a masculine but also very delicate wine thanks to its soft fruits notes (raspberry and cherry). This wine needs several years to come out and to soften.
DISH WITH THIS WINE: It will perfectly go with large pieces of meat and a nice cheeseboard.